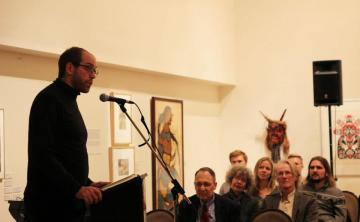 What are the City Talks?
A free public dialogue about different themes on the possibilities and challenges of cities, located in downtown Victoria, BC. Academics and experts in their fields from all over the world come together for this evening lecture series.
Venue
All events begin at 7:30pm at the Legacy Art Gallery - 630 Yates Street. Click here for more information.
Urban Studies Committee
The City Talks lecture series is sponsored and organized by the Urban Studies Committee at the University of Victoria. The committee is devoted to developing the study of cities at the University, as well as encouraging public dialogue on urban themes.
To contact the committee, please email the Chair of the UVic Committee for Urban Studies, Reuben Rose-Redwood (redwood@uvic.ca).
Current committee members
Reuben Rose-Redwood, Department of Geography (Urban Studies Committee Chair)
Deborah Curran, Faculty of Law
Jasmindra Jawanda, Independent urban planner
CindyAnn Rose-Redwood, Department of Geography
Jordan Stanger-Ross, Department of History
Deniz Unsal, Royal Roads University

Past committee members
Neilesh Bose, Department of History
Cameron Owens, Department of Geography
Justine Bochenek, Department of Geography
Paul Bramadat, Centre for Studies in Religion and Society
Simon Springer, Department of Geography
Trevor Hancock, School of Public Administration
Warren Magnusson, Department of Political Science
Jennifer Bagelman, Department of Geography
Janelle Jenstad, Department of English
Larry McCann, Department of Geography
Kevin Walby, Department of Sociology
Ian Wight, Department of City Planning, University of Manitoba
Jaro Stacul, Department of Anthropology
Emmanuel Brunet-Jailly, School of Public Administration
Mareike Kroll, Independent scholar
Support for the City Talks
Current Sponsors
Faculty of Social Sciences
Legacy Art Gallery
Past supporters of The City Talks include:
The Jean Monnet EU Centre for Excellence
The Department of History
The Department of Geography
The Department of Political Science
The School of Public Administration
The Faculty of Humanities
The Faculty of Social Sciences
The Faculty of Law
The Faculty of Graduate Studies
The Vice President Research
The Vice President Academic
The Social Sciences and Humanities Research Council of Canada
The Centre for Studies in Religion and Society
BC Council for International Cooperation
Legacy Art Gallery
School of Environmental Studies
Gustavson School of Business